Document formatting services — MS Word
Document formatting in Microsoft Word (MS Word) can take up a large amount of time if you are not on top of the program's many formatting features.
I can help you improve your document formatting, so you can save time and focus on the writing.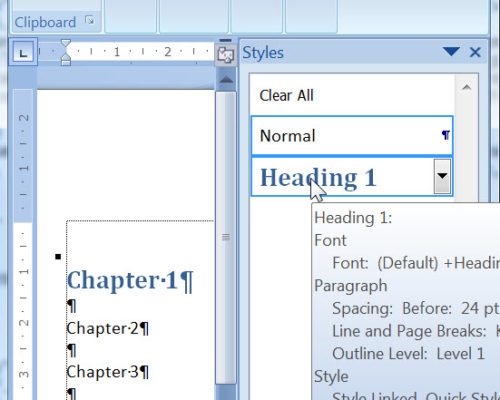 Services
I offer several document formatting services that can help you improve your document:
Self-publishing — from MS Word to PDF
I can also create a hyperlinked document ready for conversion into an ebook PDF. For more information on ebooks, see self-publishing services.
Cost details for formatting
Document formatting services are charged at an hourly rate.
Please attach a copy of the document you would like formatted when you contact me for a quote.
Contact me
Improvements to your formatted document
Improved formatting brings many advantages for your publication:
all its pages look the same
it is free from corruptions
headers and footers update automatically
headings, figures and tables have dynamic numbering
the table of contents updates automatically
the back-of-book index updates automatically
the Endnote reference list based on your Endnote database updates automatically
cross-references hyperlink to sections and chapters, illustrations or photographs and update automatically
your document can be easily published and re-published as an ebook PDF or converted into EPUB format.
This means you can get on with your writing work, collaborate with other authors or editors without frustrating formatting issues and deliver high-quality ebooks to your customers.