Older Yet Faster
The secret to running fast and injury free
Edition 3, 2020
By Keith Bateman and Heidi Jones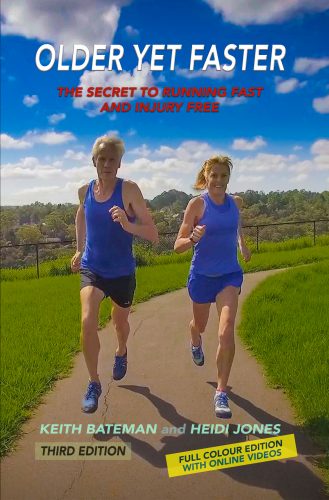 ☙ Older yet faster is an inspirational book that answers every running technique-related question you might have. ❧
This book dispels the many ill-thought-out yet widely accepted 'rules' on running.
It is the go-to manual for all runners, from beginner to expert, and for coaches and medical professionals wanting to learn how to treat running injuries quickly, efficiently and permanently.
When you have finished this book, you will think very differently about all aspects of running. You will fully grasp the physics of running, the effects of footwear and technique on your body, and the benefits of this simple approach to injury reduction and rehabilitation.
Together, Keith Bateman and Heidi Jones re-write the technique manual for both running and podiatry, and show that it works.
Publisher: Older Yet Faster Publications Pty Ltd
Format: epub
About the authors
Keith Bateman
Keith Bateman is an expert at removing the pain caused by poor technique and making clients much faster in the process. He is a full-time running technique coach and, at the age of 55, became the oldest person ever to run 10 kilometres in under 32 minutes. He has distilled the art of fast, almost effortless running into a unique six-lesson plan to rebuild your technique. Keith currently holds five age-category world records (M55+) for every distance from 1500 metres to 10 kilometres.
Heidi Jones
Heidi Jones (Dip. Pod., MA. Pod. A) is a former youth state champion who ran 10 miles in 58:13 and 10 kilometres in 33:40 at the age of 17. She is well-known in Sydney as the podiatrist who fixes people by foot strengthening, removing orthotics and chunky shoes, and teaching proper running technique. Her unique strengthening and rehabilitation program meshes with Keith's lessons.
Shop
Format: epub